Paul Arnold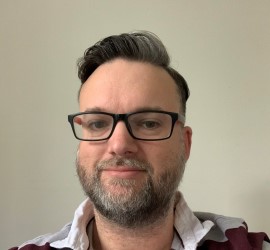 Curate
Position within the Church: Curate.
How long have you been a Christian? All my life but with a short blip from 1998-2000.
How and why did you become a Christian? I was brought up in a Christian household and was a good Christian boy until I hit teenage years and began to lead a kind of double life. I still believed but wanted to have 'fun.' I remember going on mission to Uganda at 16 and leading a red cross worker with us to Christ. Yet, when I went to Uni in Wales the next year, I walked away from the church in order to 'have a good time.' I soon lost all my money, and was in danger of dropping out.
Then I met my now wife, Liz. I found out that she went to church, and I started going again, initially in order to keep seeing her, but I found the sense of love and welcome so profound. I remember one day the preacher was talking about the Parable of the Prodigal Son and I heard a voice say 'Welcome home' I turned around, but there was no-one there. I spent the next few years coming to terms with how God could still love me despite all that I had done to wrong him.
But it is this faithfulness of God despite my unfaithfulness that astounds me every time. And when I put that faithfulness of God alongside Jesus' death on the Cross. I can't help but worship, particularly when I know that out of that death came such abundant life in his glorious resurrection.
What are your hobbies and interests? I love playing music (guitar and sing), watching rugby, I have just taken up golf and enjoy cycling and walking. I really enjoy cooking and trying new and interesting food. I am a huge fan of board games and can often be found convincing my wife to play Pandemic with me.
And family? I am married to Liz who is also at All Saints'. We have three young children: Evie, Bea and Toby.