Sandra Griffiths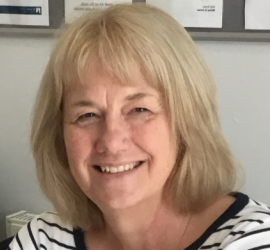 Administrator (W, Th, F)
Position within the Church: Receptionist/Administrator.
How long have you been a Christian? I became a Christian in September 1995.
How and why did you become a Christian? After my mum died in 1994 (just after my daughter was born) I started searching for some meaning in life, I came to the first Alpha course at All Saints in 1995 and found all the answers to my searching and more. I also found a relationship with Jesus which has been the centre of my life since then.
What are your hobbies and interests? I like people (having coffee and chatting) Gardening and wildlife, Walking with my Whippet George, Art  and Music.
Do you have any family who attend church? I have a wonderful husband who doesn't attend church very often.  My daughter Alice is a Christian and is an active member of All Saints'.
What are your aspirations for All Saints' Church for the next 12 months? I still want to help make All Saints a welcoming/resourceful place where people can come to meet with Jesus, be encouraged and encourage others. As we move into the phase of reordering (new building project) I pray that God will help us to make this place more accessible and welcoming, for those who don't usually come to church.
What are your long-term desires for All Saints' Church? Long term I hope that we can reach out more in the community to be a beacon, bringing the light of Christ to everyone. To do more outreach projects in the local area and let people see how amazing God is, to see Him in all His Glory and unexpectedness.
Finally, what has been the best advice/guidance that somebody has given you as a Christian? Be the unique person God created you to be, not who you think other people want you to be.