Romans Sermon Series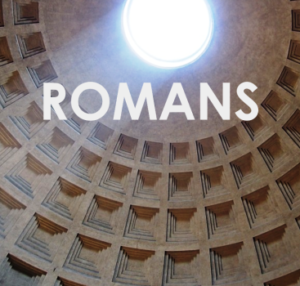 Morning Services 16 June – 29 September 2019
Paul's letter to the Romans is the longest letter we have in the Bible. Actually, it's by far the longest letter we have from the ancient world from any writer.
Some see Romans as the nearest Paul got to writing a complete systematic theology. It is, say some, his mature theological summary, his majestic magnum opus.
But it is, in fact, a pastoral letter designed to address a practical issue in a unique church for a particular reason as we shall see in this series.
It would take a couple of years to do Romans justice and we could easily lose ourselves for months on end unravelling and getting to grips with Paul's tightly-packed thinking. When Peter says "Paul's letters contain some things that are hard to understand" (2 Peter 3.16) he was no doubt thinking of this epistle!
Instead of covering the entire book verse-by-verse, we are going to cover chapters 1-11 in just two weeks, to get a feel for the overall flow of the more doctrinal part of the letter, and then dig down into the more practical section in chapters 12-16 over 13 weeks.
16 June at 9am – God's Saving Gospel (Romans 1.1-17 and 8.31-39) John Lambert
23 June at 10.30am – God's Saving Gospel (Romans 1.1-17 and 8.31-39) John Lambert
30 June at 9am and 10.30am – God's Sovereign Grace (Romans 9.1-5 and 11.25-36) John Lambert
7 July at 9am – How to Live a Transformed Life (Romans 12.1-2) Brian Wake
7 July at 10.30am – How to Live a Transformed Life (Romans 12.1-2) Kevin Storer
14 July at 9am and 10.30am – How Church Works (Romans 12.3-8) John Lambert
21 July at 9am and 10.30am – How to Find True Love (Romans 12.9-21) Kathryn Belmont
28 July at 9am and 10.30am – How to Relate to Those in Authority (Romans 13.1-7) Paul Arnold
4 Aug at 9am and 10.30am – How to Live with Outstanding Debt (Romans 13.8-10) John Lambert
11 Aug at 9am and 10.30am – How to Get Up and Get Dressed (Romans 13.11-14) Erin Bunford
18 Aug at 9am and 10.30am – How to Handle Differences (Romans 14.1-23) John Lambert
25 Aug at 9am and 10.30am – How to Get On with Others (Romans 15.1-13) David Emerton
1 Sept at 9am and 10.30am – Fully Proclaim the Gospel (Romans 15.14-24) Scott Linnett
8 Sept at 9am and 10.30am – Share Your Blessings (Romans 15.25-33) Paul Arnold
15 Sept at 9am and 10.30am – Honour Outstanding Service (Romans 16.1-16) John Lambert
22 Sept at 9am and 10.30am – Be Established in Faith (Romans 16.17-27) John Lambert