Teesside Churches Unity Service for Pentecost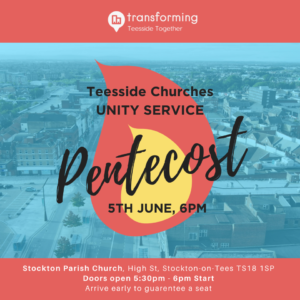 The Church of Teesside is uniting together for a Pentecost Service.
Join hundreds of Teesside Christians in worship, prayers and inspirational teaching. We are ONE Church here in Teesside and we long for a great move of the Holy Spirit in blessing our towns and the people of Teesside.
The service is being held at Stockton Parish Church, High Street, Stockton-on-Tees, TS16 1SP.
Doors will open at 5:30pm, please arrive early to make sure you get a seat.